Say Gah! to Keely Murphy, the artist, designer, and stylist behind Birthday Girl, a Los Angeles-based textile brand specializing in whimsical, cool hand-painted pieces beloved not just by us, but everyone from Kendall Jenner to Joe Jonas. From poppies to tulips to abstract prints inspired by David Hockney, Keely creates all of her joyful pieces at her home studio, applying her technique to vintage and contemporary blank silhouettes.
Deeply inspired by vintage textiles, her own space, and craft prints, Birthday Girl's POV fits hand-in-hand with ours at LSG, meaning when we were thinking about our next artist collaboration, we knew it had to be Keely's famous flowers. Keep reading to meet the gal behind Birthday Girl, learn about Keely's path to founding her own label, see inside her studio decorated with kitschy vintage pieces, and get the deets on her adorable Golden Retriever logo.
Words and interview by Maddie Sensibile.
Photos by Linda Park.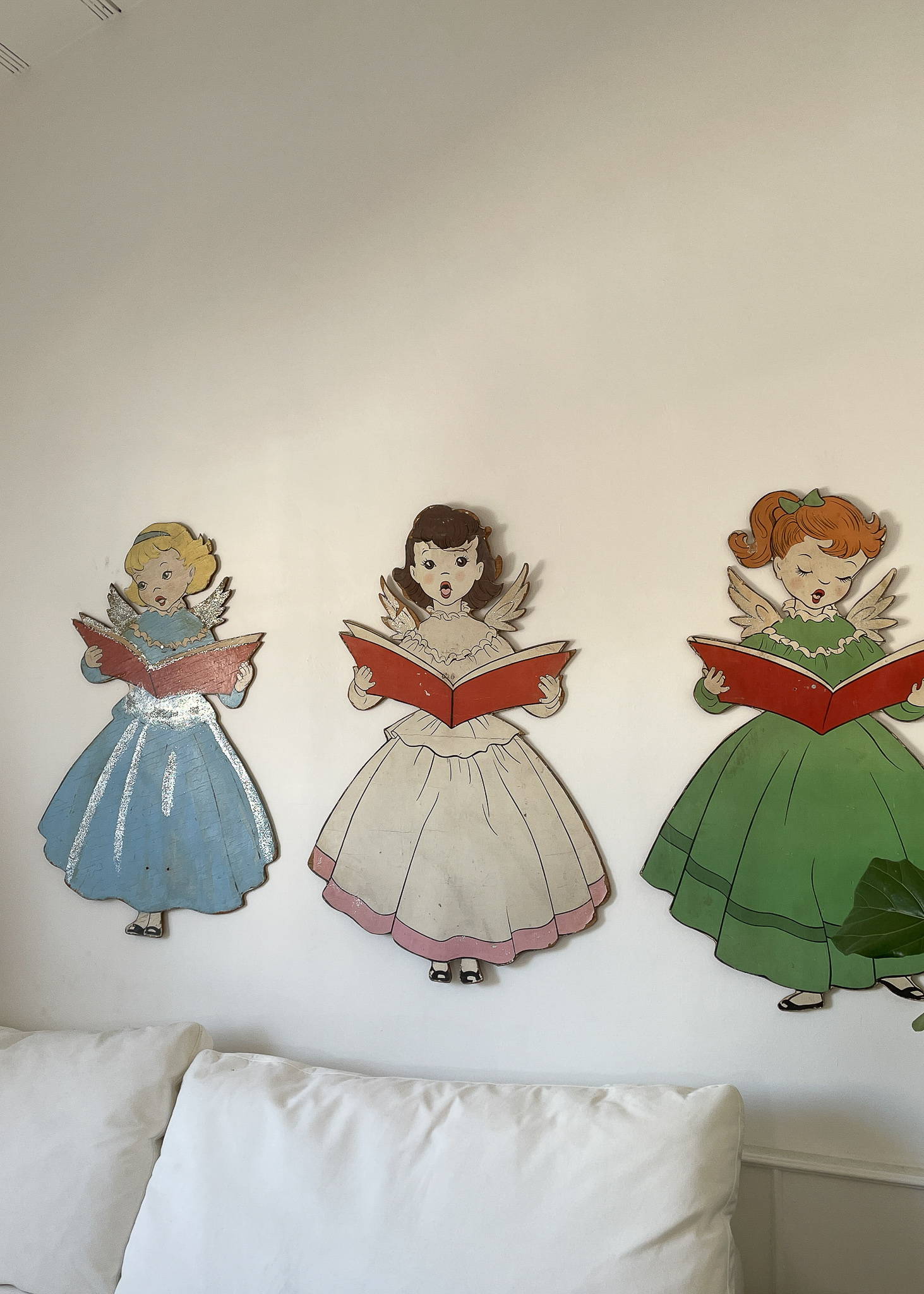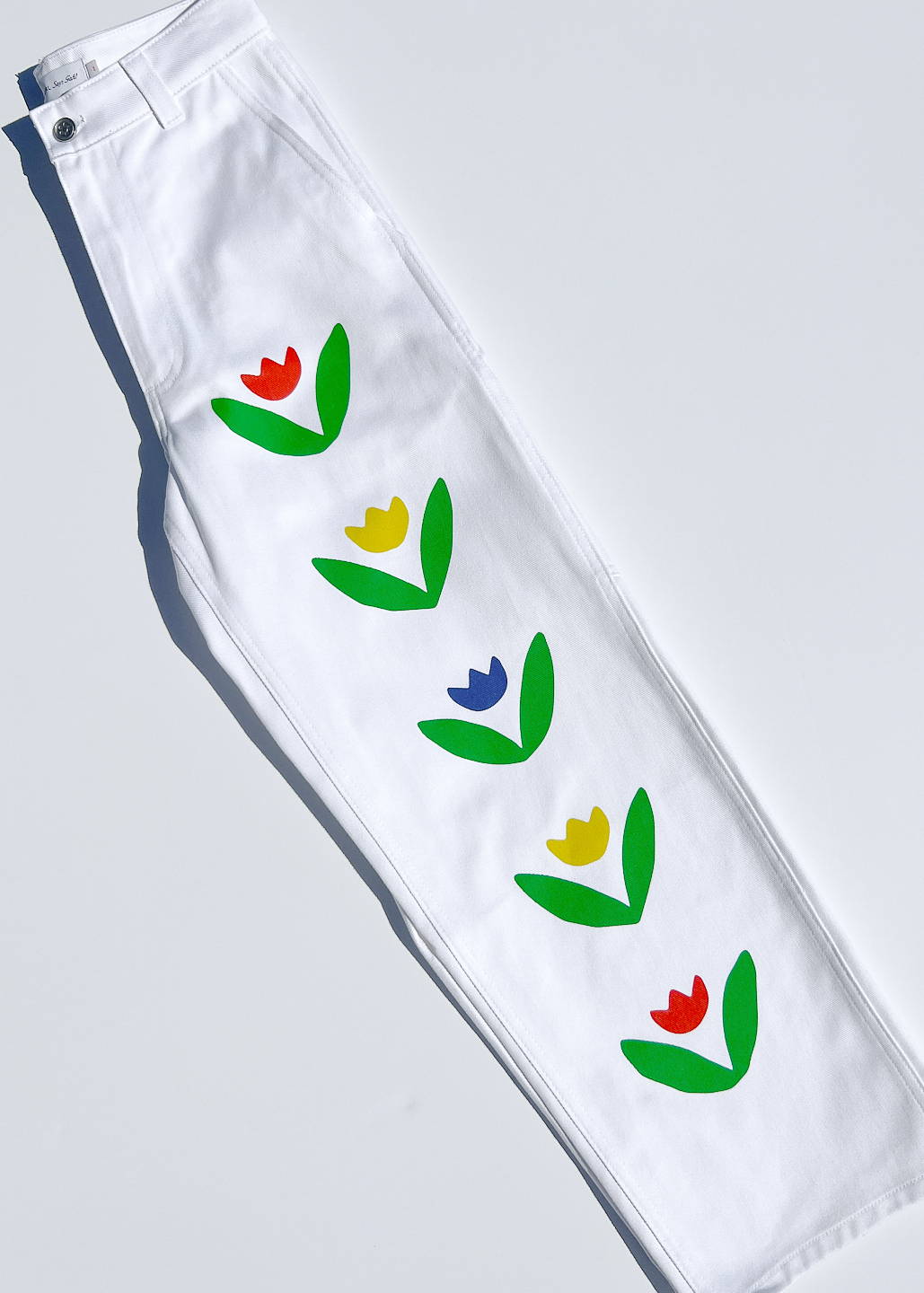 Hi Keely! Who are you, tell us a little bit about yourself!
I am a 28 year old artist living in Los Angeles. I was born by the beach in 1993. My sister and I grew up surfing and collecting antiques with our parents. I studied Studio Art and Art History at UCLA, and pursued a career in fashion after graduation. I worked as a stylist until 2020, launching Birthday girl that fall! I love playing tennis and getting dressed.
What is Birthday Girl?
Birthday Girl is a textile based brand out of Los Angeles. It's a mix of vintage and contemporary, following a consistent color theory. Every piece is hand painted by me, in my Mid City apartment!
How did you decide to start hand painting clothing?
I made the first pieces in 2015. After graduating from art school I focused on working in fashion, knowing that I would return to the concept when I felt ready to run my own business. I visualized the brand for a long time, before settling on a structure that I could maintain and enjoy in the long term.
Have you always been a painter?
Yes! I took weekly art classes and summer programs my entire life. I was fortunate to have parents that really believed in the creative arts as a career path.
Dana is the true definition of a multi-hyphenate, constantly creating, no matter the medium. Dana is proudly of middle eastern descent, and is always looking to use her photography/film work to breakdown stereotypes, and depict a positive representation of middle-eastern/Muslim communities. Boulos Is also a fierce advocate for women's rights—she currently supports Free The Work, a non-profit initiative advocating on behalf of female directors for equal job opportunities.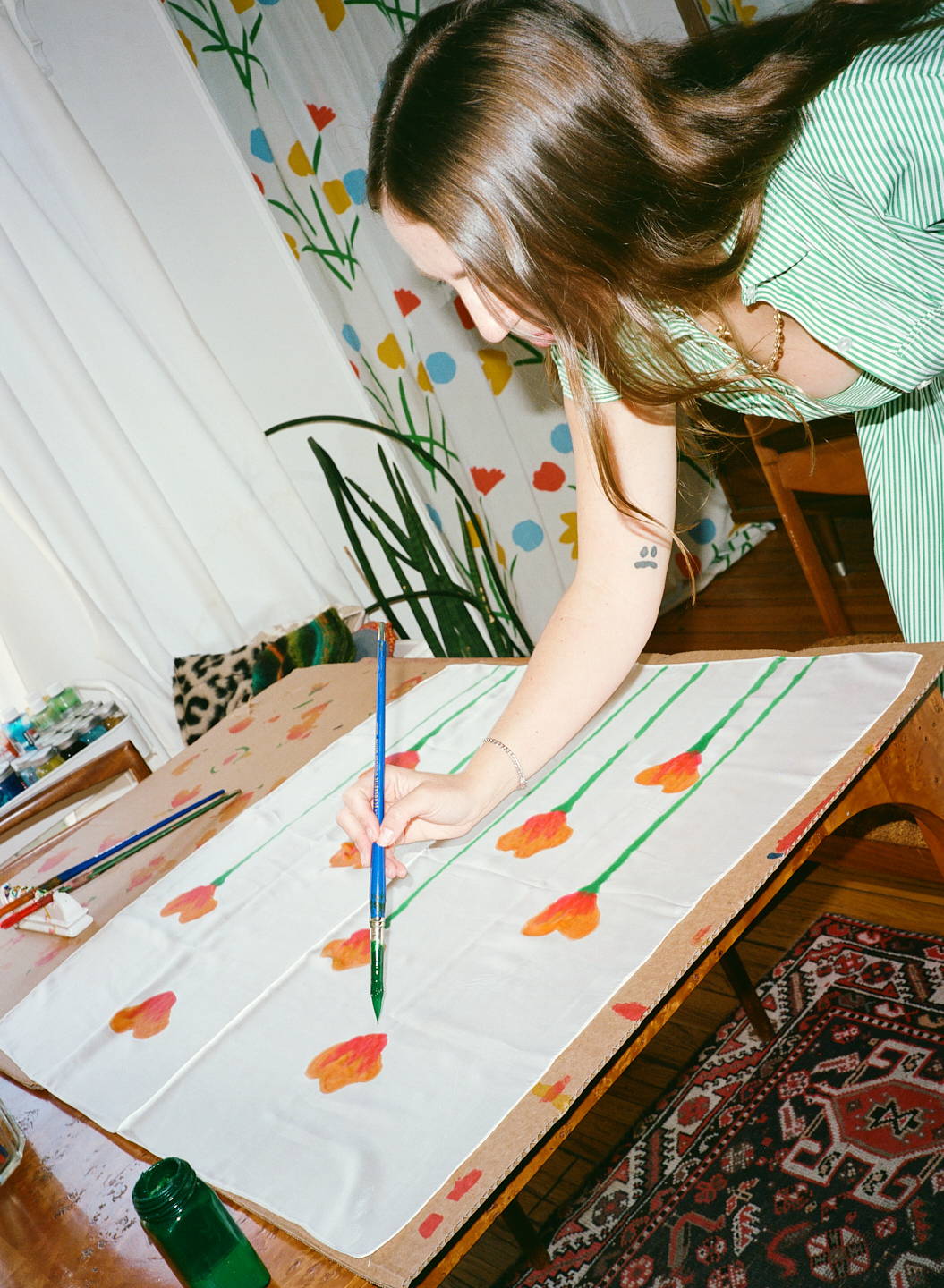 "I aim to make timeless pieces that invite compliments. Something you keep in your wardrobe for a long time and feel excited to step out in.

"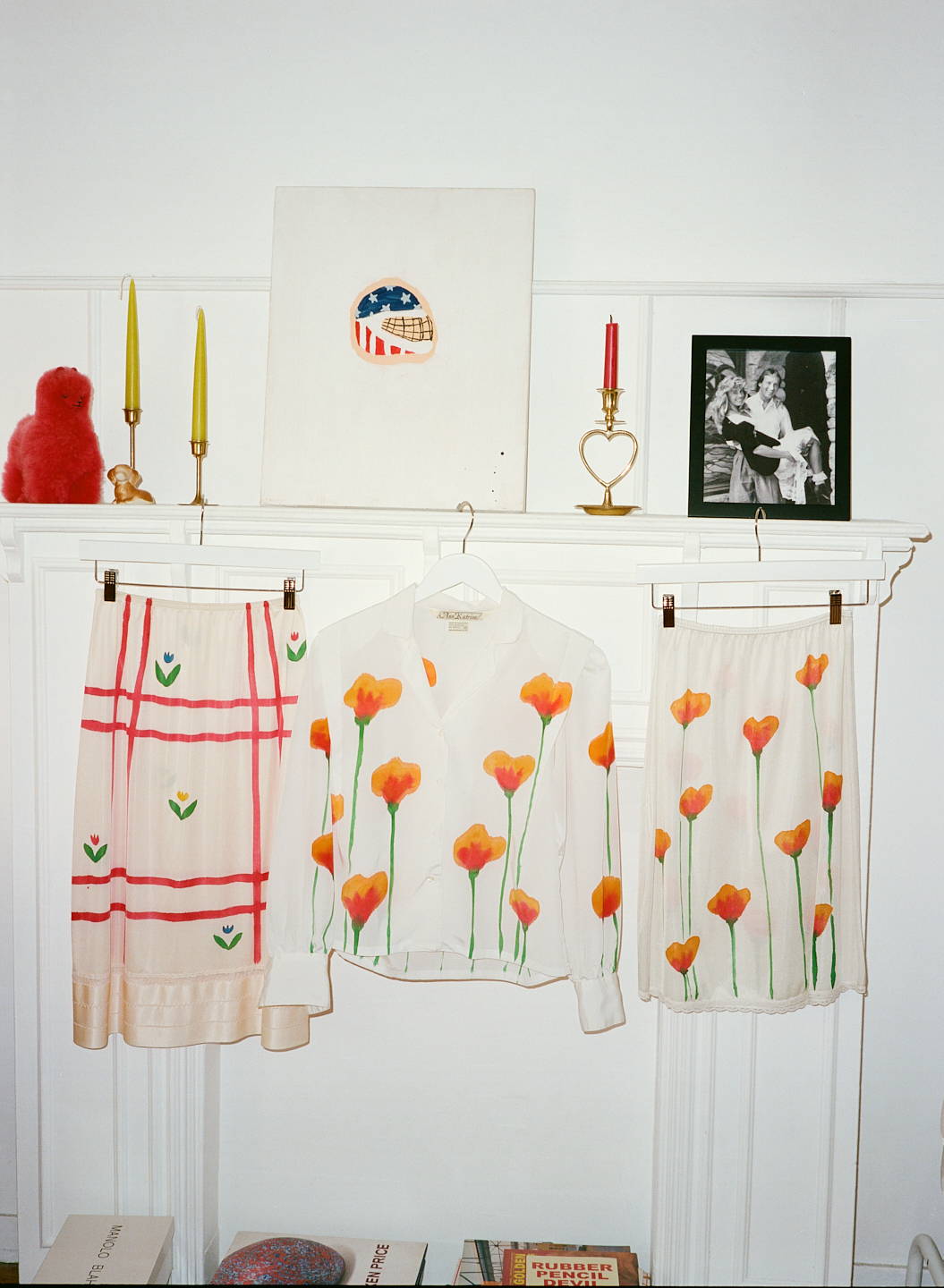 Where does your love of flowers stem from? How did you decide tulips specifically for Birthday Girl Says Gah collab?
My love of vintage textiles! I am inspired by Marimekko and Betsey Johnson. My prints are a reflection of my space. Tulips are my favorite flower, and the block print version in this collection was a reference from a 90s home craft book.
What was your experience taking your hand-painted prints and creating them digitally?
I painted the pattern on yardage and my boyfriend, Graham, worked with me to digitize it. I wanted to maintain the natural looking brushstrokes from my made to order and 1/1 pieces. It's exciting to see my artwork reproduced, and applied to signature LSG cuts!
What's one thing you hope to bring to people through the LSG collab and your work in general? A feeling? Etc.
Joy! I aim to make timeless pieces that invite compliments. Something you keep in your wardrobe for a long time and feel excited to step out in. I've always dressed loudly, and nothing beats the smile you put on a stranger's face when they take it in.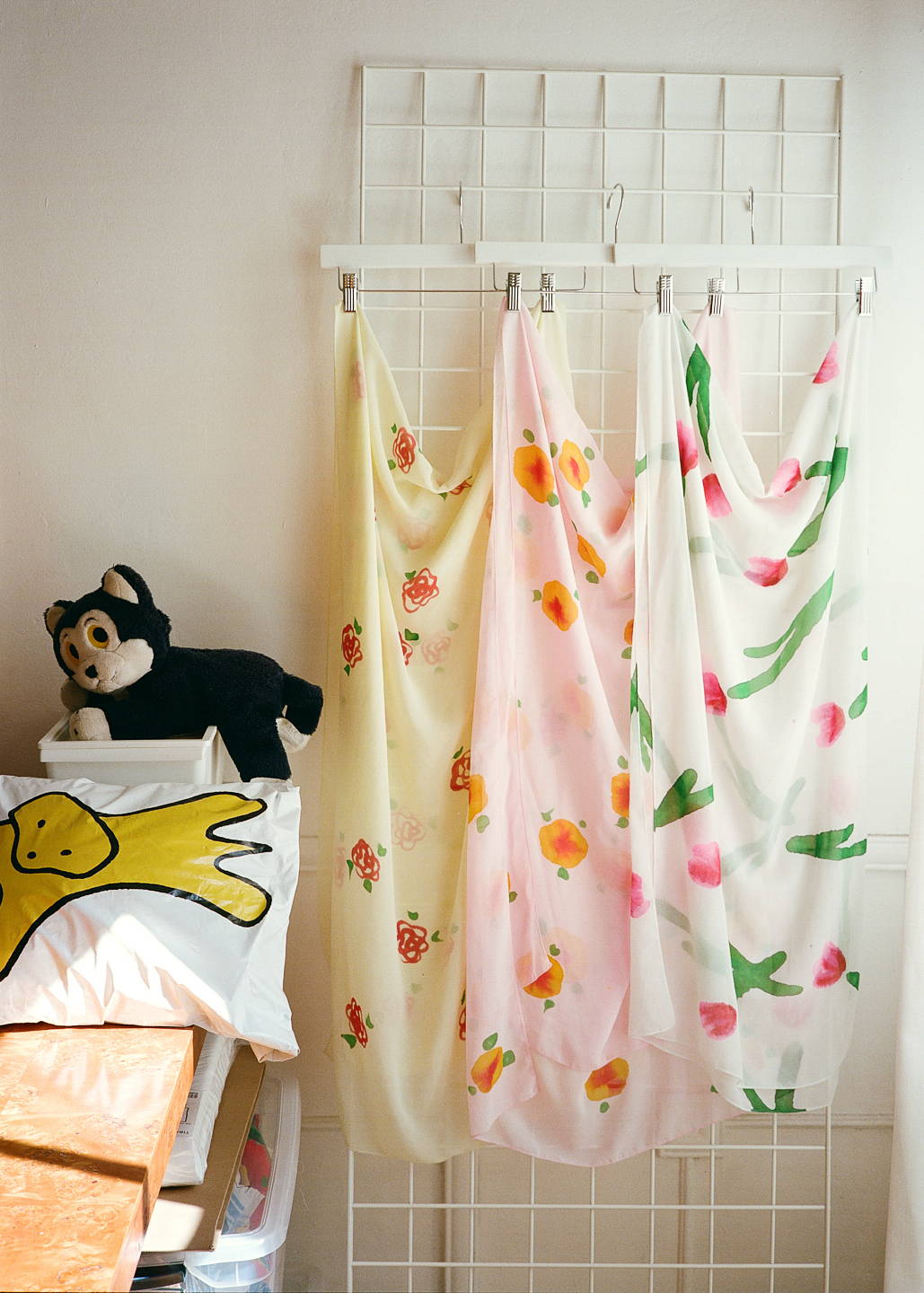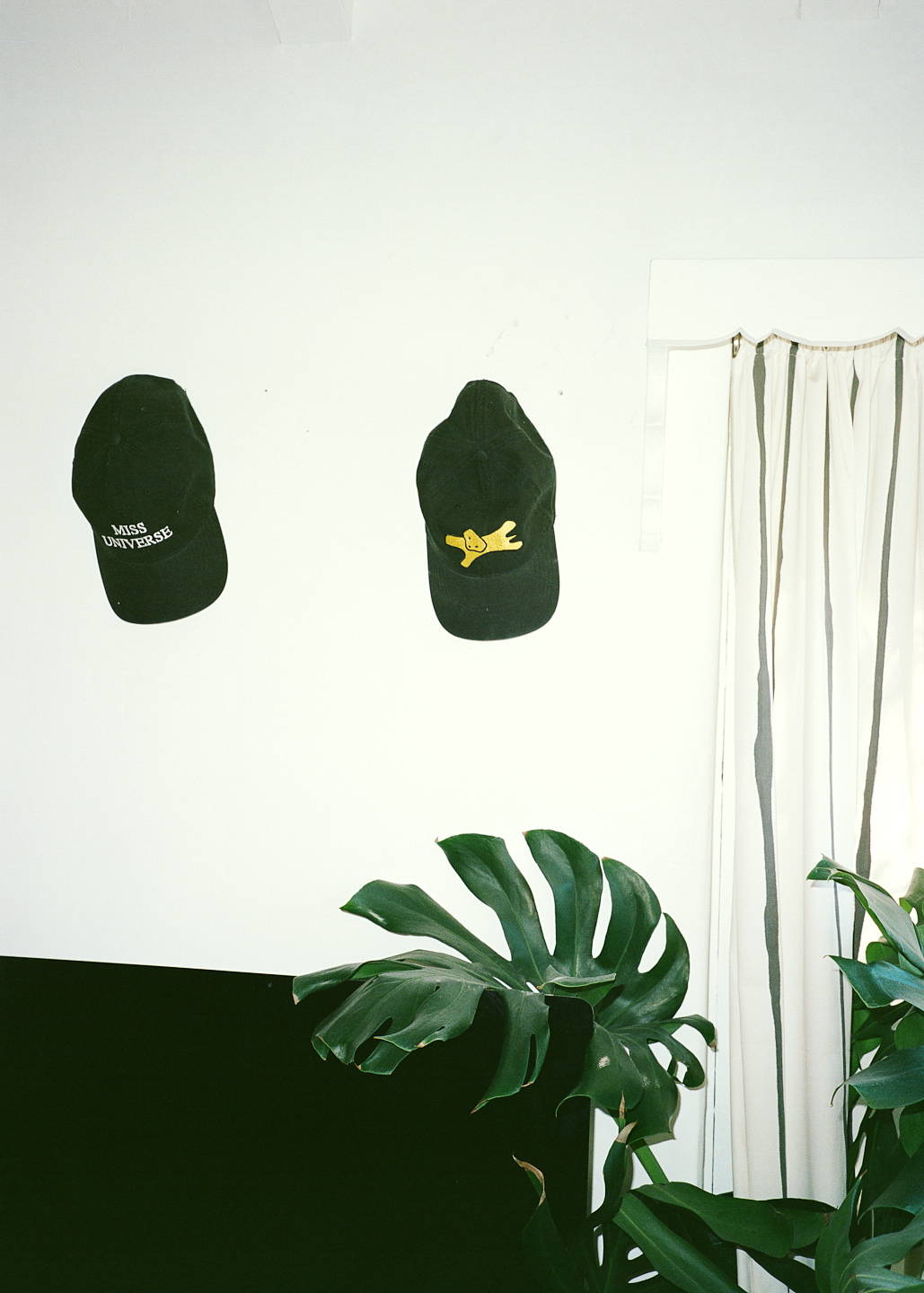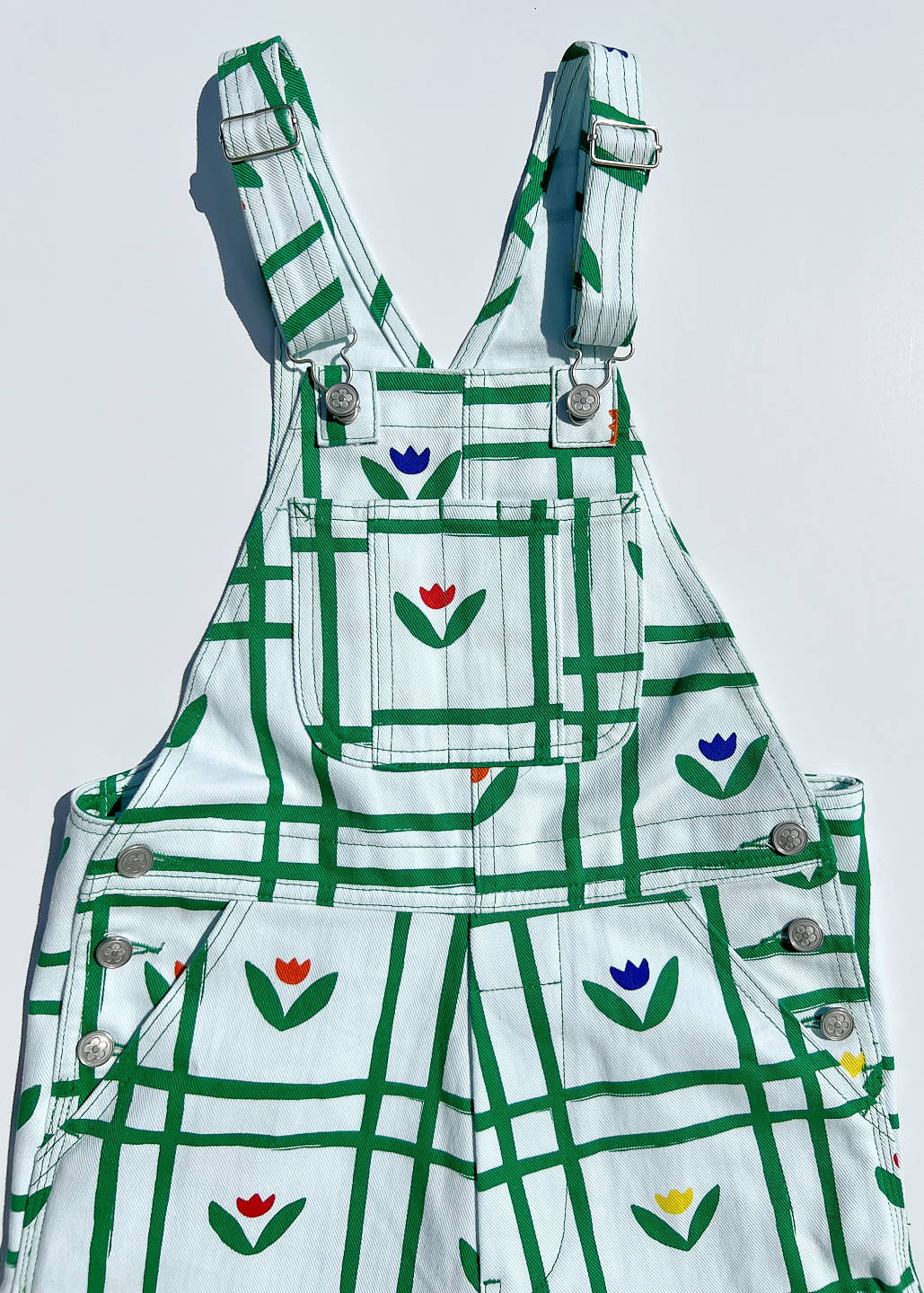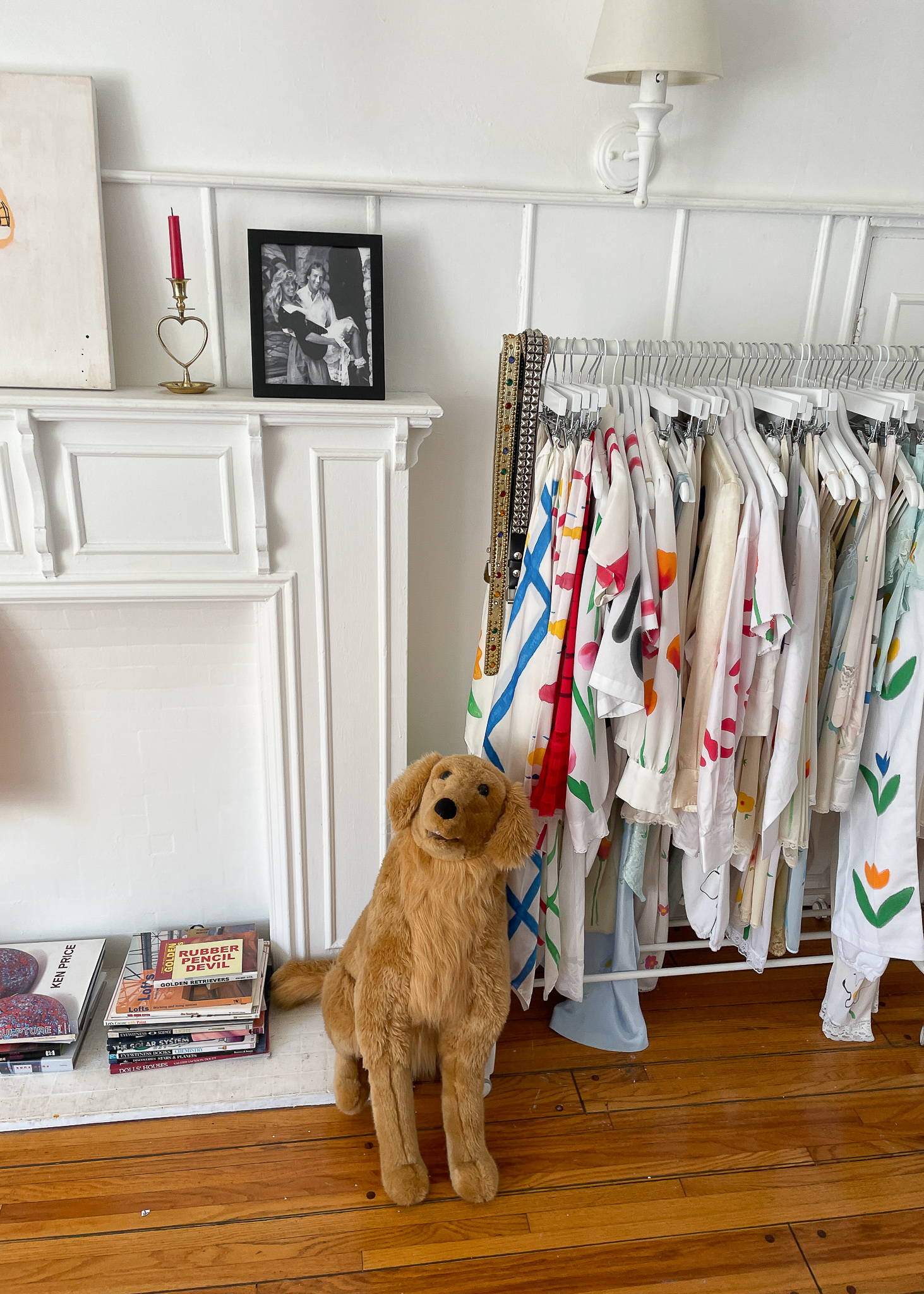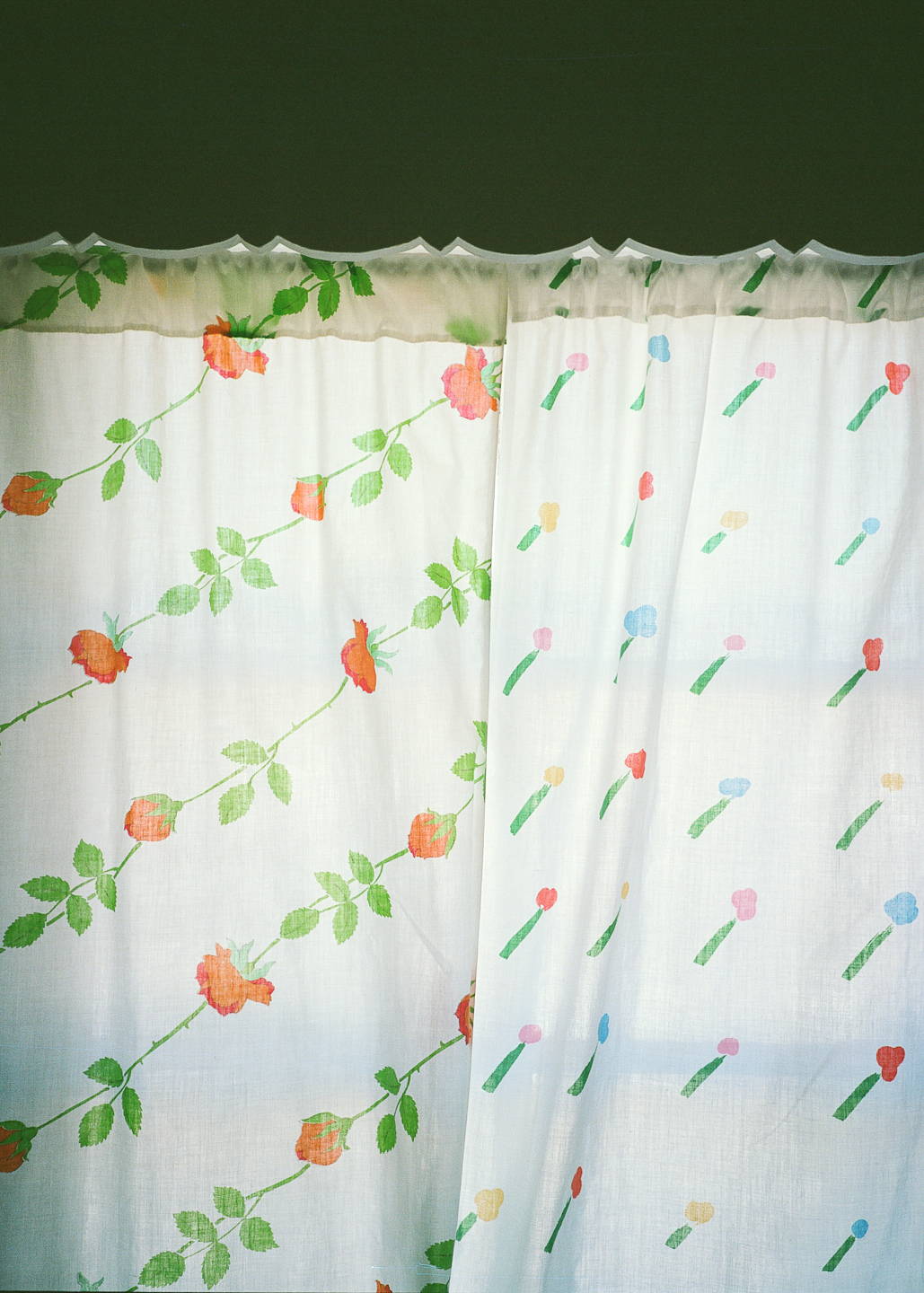 What's your favorite piece in the collab?
The denim is great. I love the white Dylan Jean. I always appreciate a matching set and am excited about the linen pieces! Perfect for this summer.
How are you styling the pieces with your own hand-painted ones and your own vintage?
With my styling background, one of my goals with Birthday Girl is to create products that are easily interchanged and have multiple ways to wear. This collection has a great range of styles that compliment the one-of-one Birthday Girl assortment. I love having the option to combine bold patterns, and also pair things back with navy blue basics.
Finally, we must know about Birthday Girl's logo!
That's Tommy! My fictional golden retriever mascot. He is my favorite co-worker.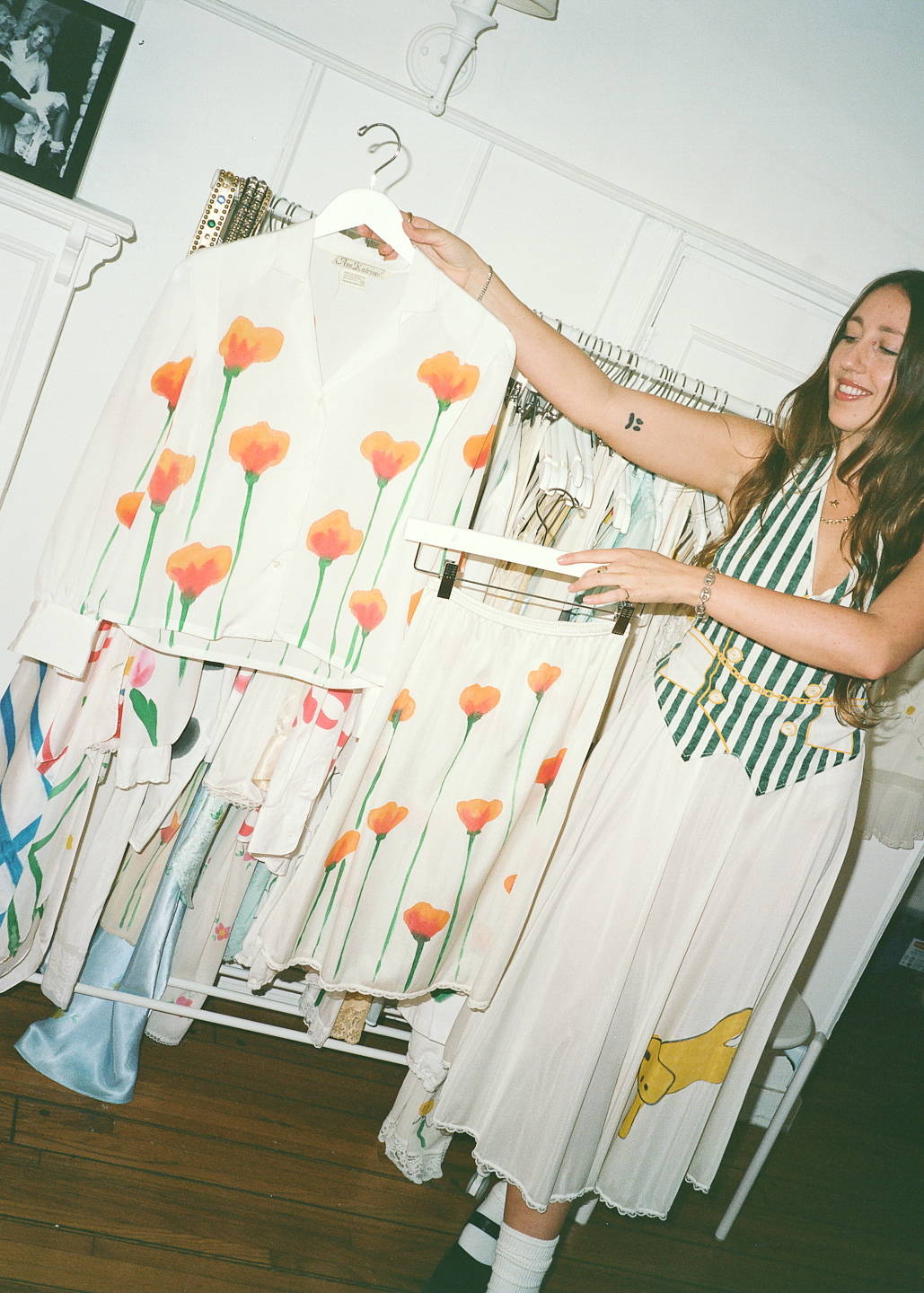 1.29.21
Text: Madeline Sensible
Photos: Dana Boulos
@danaboulos