Say Gah! to Emily Labowe, a model, actress and small business owner born and raised in Los Angeles. Emily is the owner, founder, and designer of the community-oriented Poppy Undies, a line featuring delicately embroidered underwear she designs from her home in Silver Lake and produces ethically in LA. We shot Emily at home in her favorite pairs of Poppy Undies, now available on Lisa Says Gah, including an exclusive "Gah!" pair (we're so excited about this one). Get to know Emily below, her process, the multimedia projects she's producing for the brand, and the unexpected places she draws inspiration from for Poppy designs.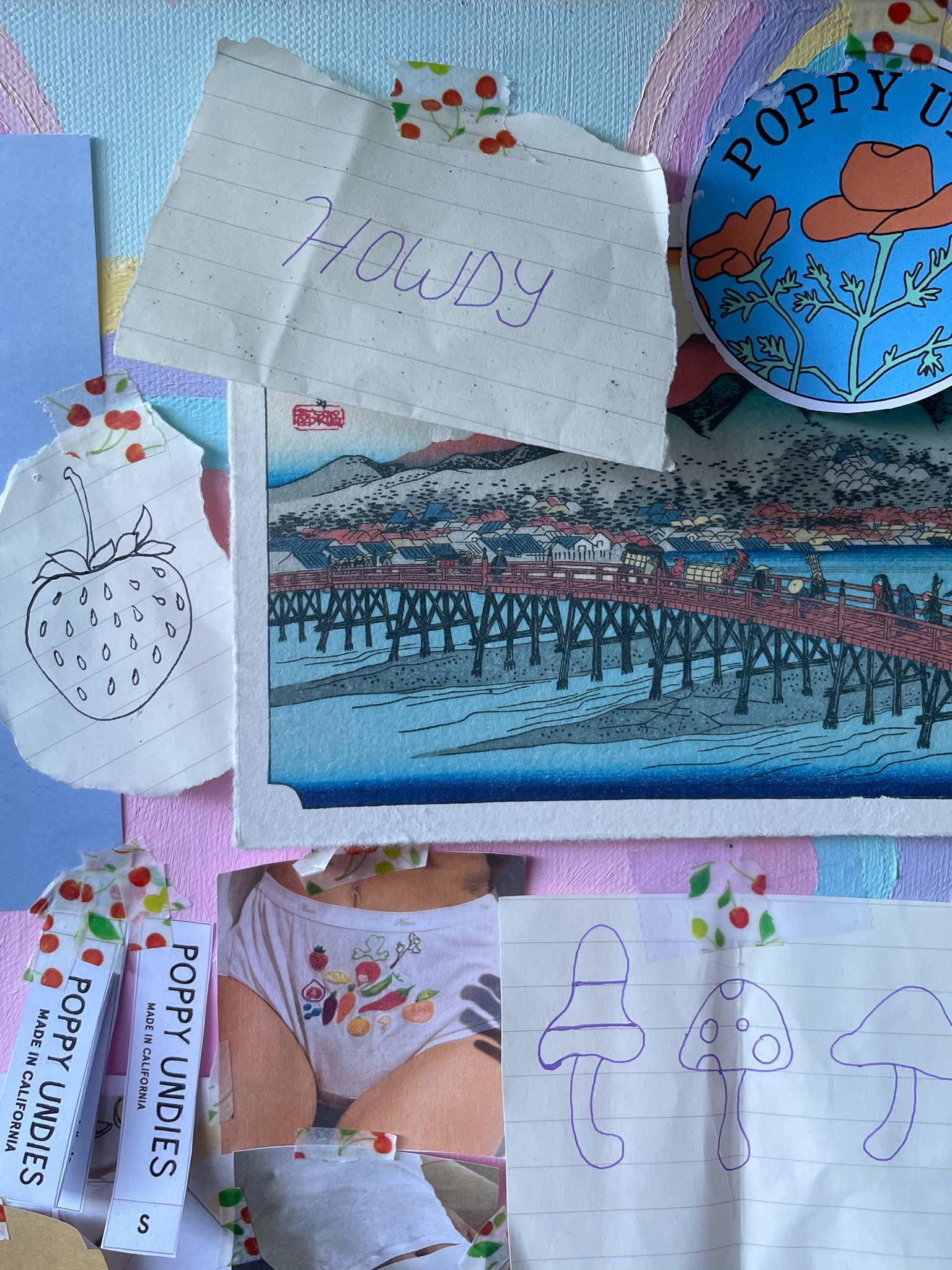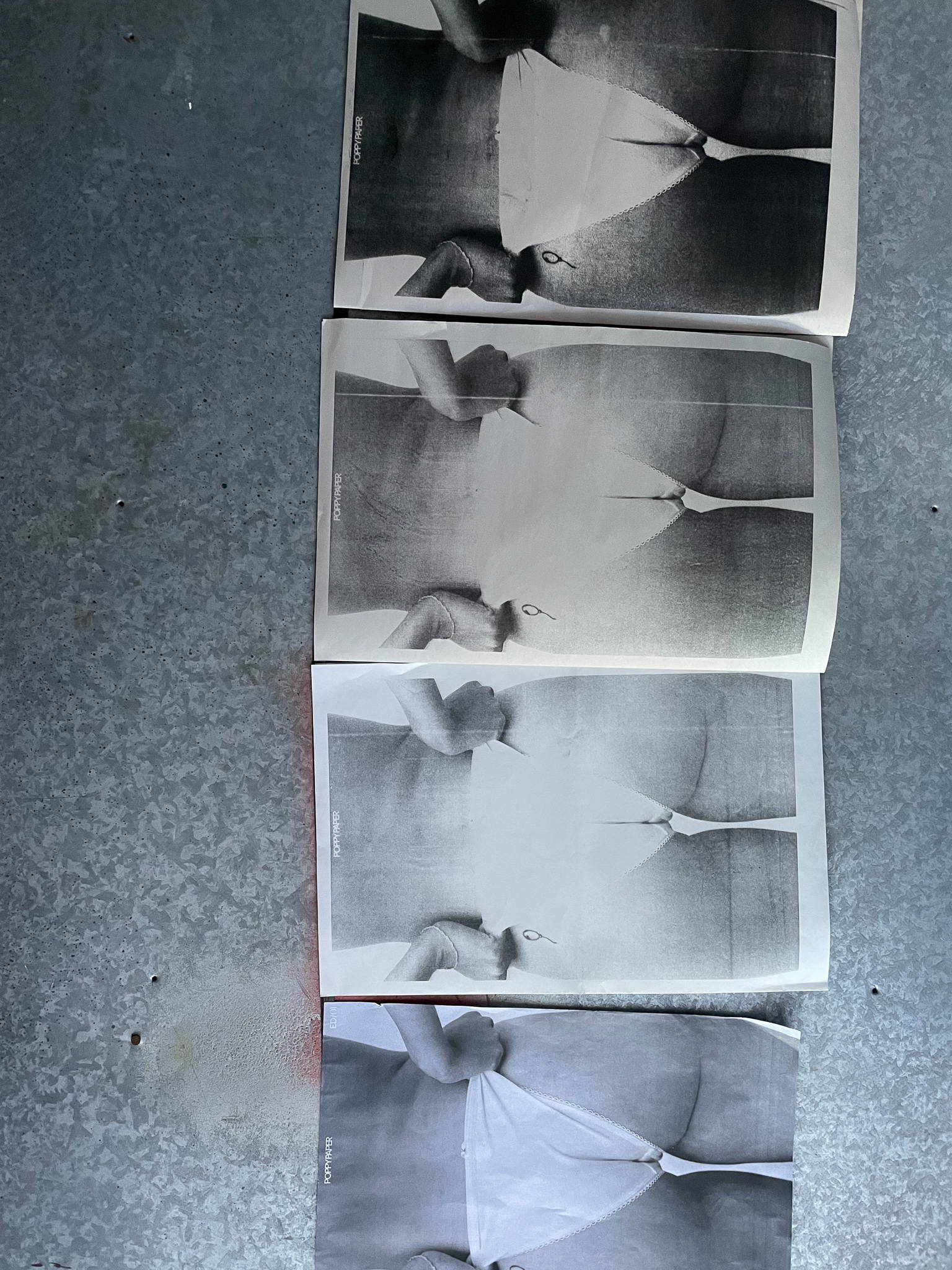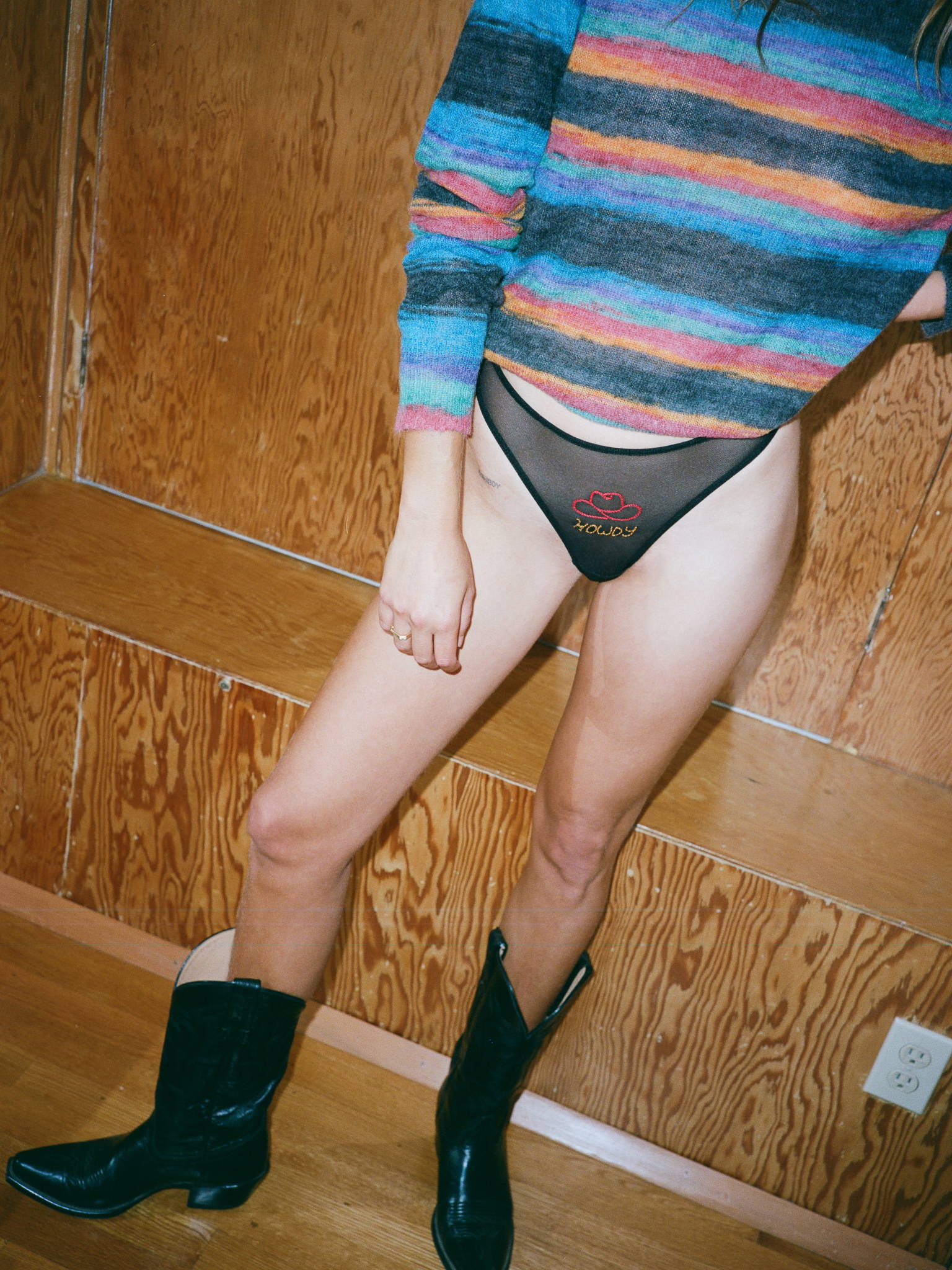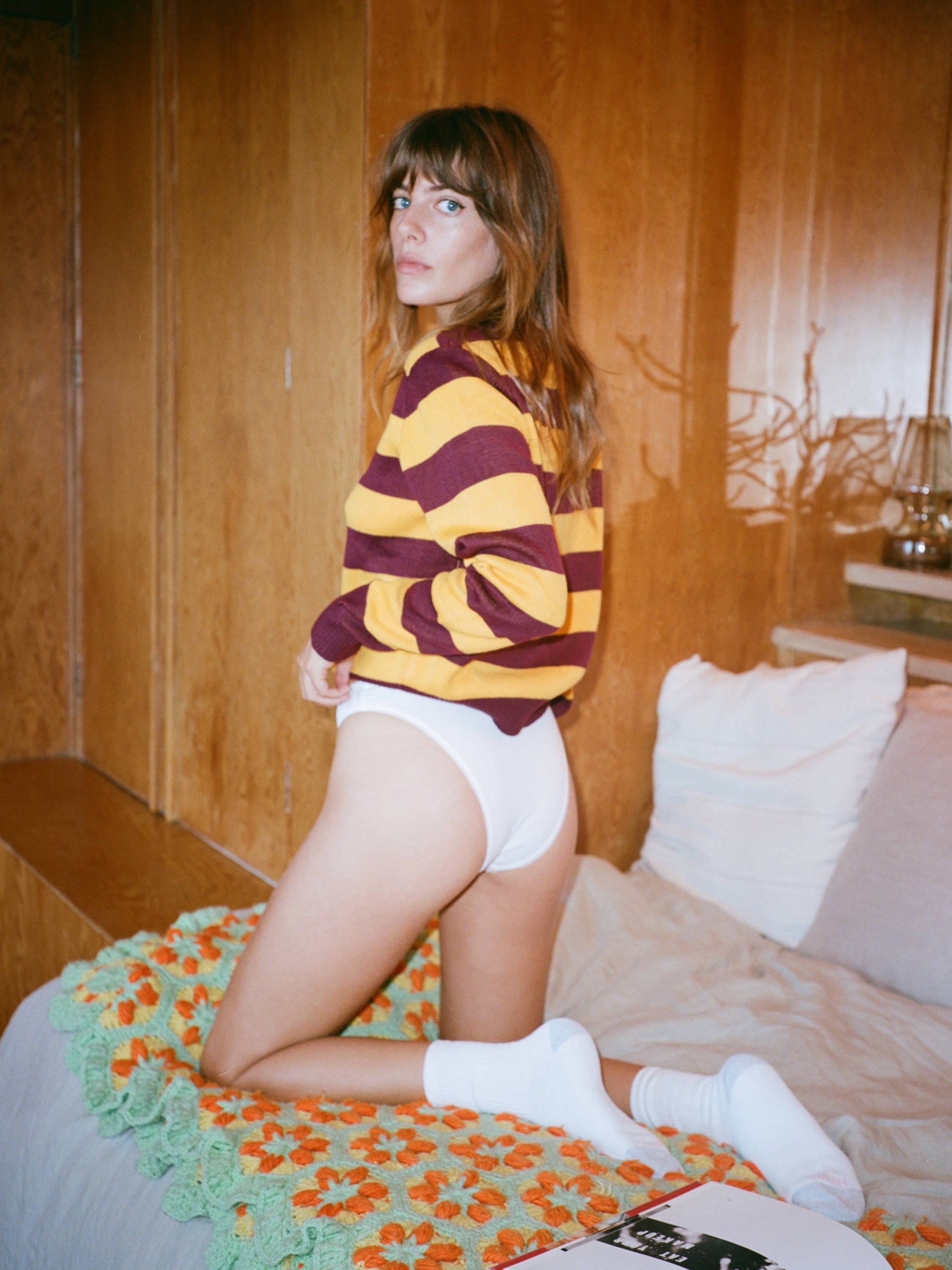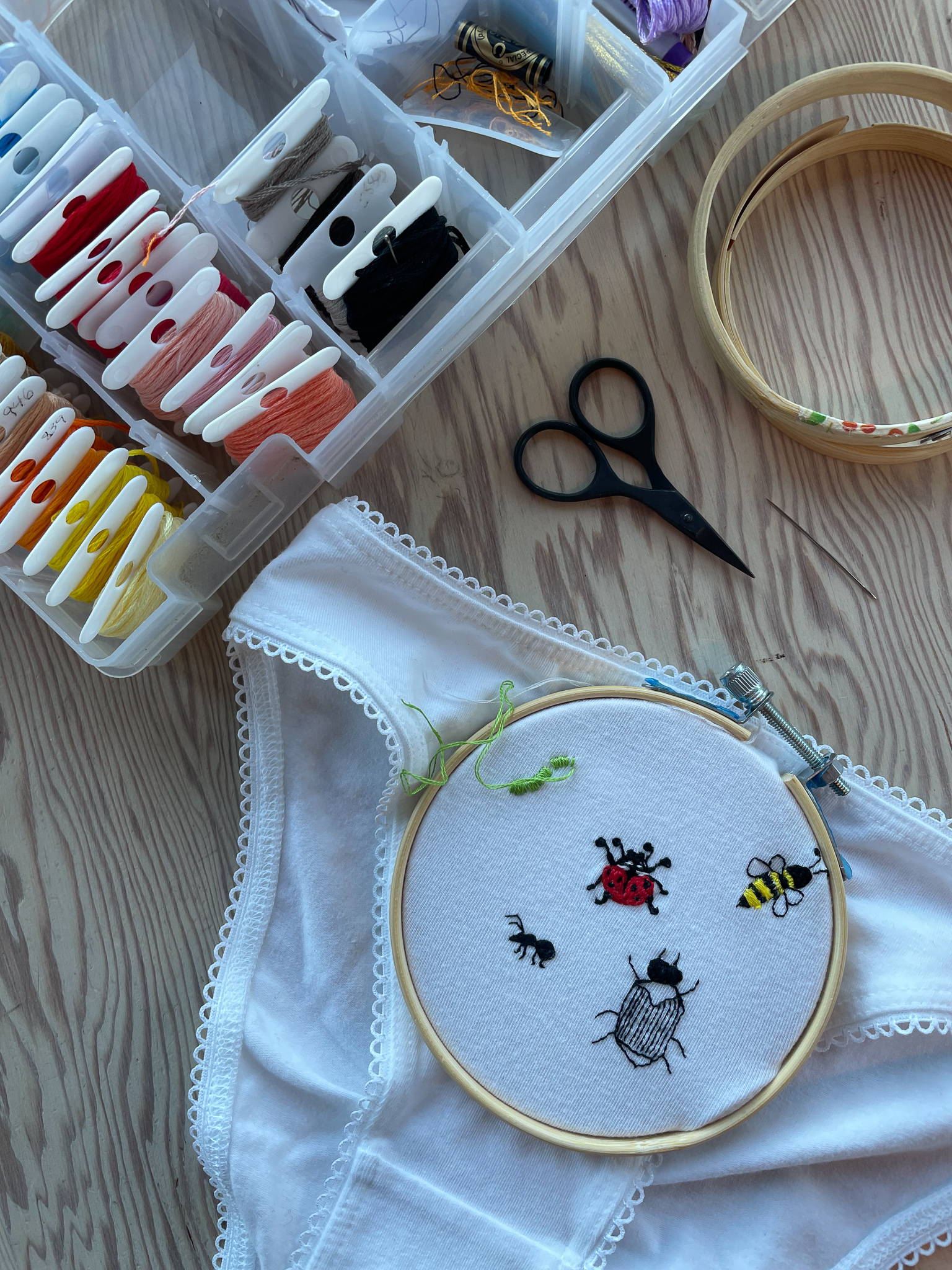 Hi Em! Tell us about how Poppy Undies started + a little bit about the production process.
My mom taught me how to embroider during Passover a few years ago on a matzah cover. I fell in love with the craft and decided that undies were the perfect intimate personal item of clothing to be embroidered. Just before the pandemic hit, I decided that I wanted to produce my own underwear inspired by an 80s French cut. A simple yet sexy cut that enhances the waist line and flatters the leg. I personally feel most confident in a basic white pair of cotton undies. I work with a local factory in Downtown Los Angeles and produce two styles of undies, The classic Poppy Undie - a cotton high-waist french cut with a picot trim, and the Unisex Boxer, a rib cotton boxer brief. It is important to me to support our local community and make items of clothing that are thoughtfully and mindfully designed and produced.
Creating a sense of community, homeyness and coziness is central to Poppy. Poppy Paper is an art newspaper I published featuring works from prominent artists around the globe, who graciously shared their art, words, and imagery relating to themes of body, femininity, love, heart break, and self acceptance.
What drew you to embroidery and intimates specifically?
There is something calming and peaceful about the process of embroidery—focusing on tiny details helps my mind when I am feeling anxious and overwhelmed. Underwear is innately personal and intimate. It is the first article of clothing one puts on before getting dressed and it made sense to me to have something personalized and special on them. It's like a little secret, a little something that makes you feel good and happy.
What's your process for designing a pair of Poppy Undies? How do the ideas come to you?
I embroider things that I love, things in nature, things that promote self-love and acceptance. I think we get caught up in staying on trend or doing whatever everyone else is doing, and sometimes we just want to feel happy and good in the most animalistic way—like having a farm animal on your undies !
A line from one of my favorite Mary Oliver poems,
'You only have to let the soft animal of your body
love what it loves'
Last spring, I released a Farmer's Market series of some of my favorite fruits and vegetables. I have a bug series coming out next year as well...
Dana is the true definition of a multi-hyphenate, constantly creating, no matter the medium. Dana is proudly of middle eastern descent, and is always looking to use her photography/film work to breakdown stereotypes, and depict a positive representation of middle-eastern/Muslim communities. Boulos Is also a fierce advocate for women's rights—she currently supports Free The Work, a non-profit initiative advocating on behalf of female directors for equal job opportunities.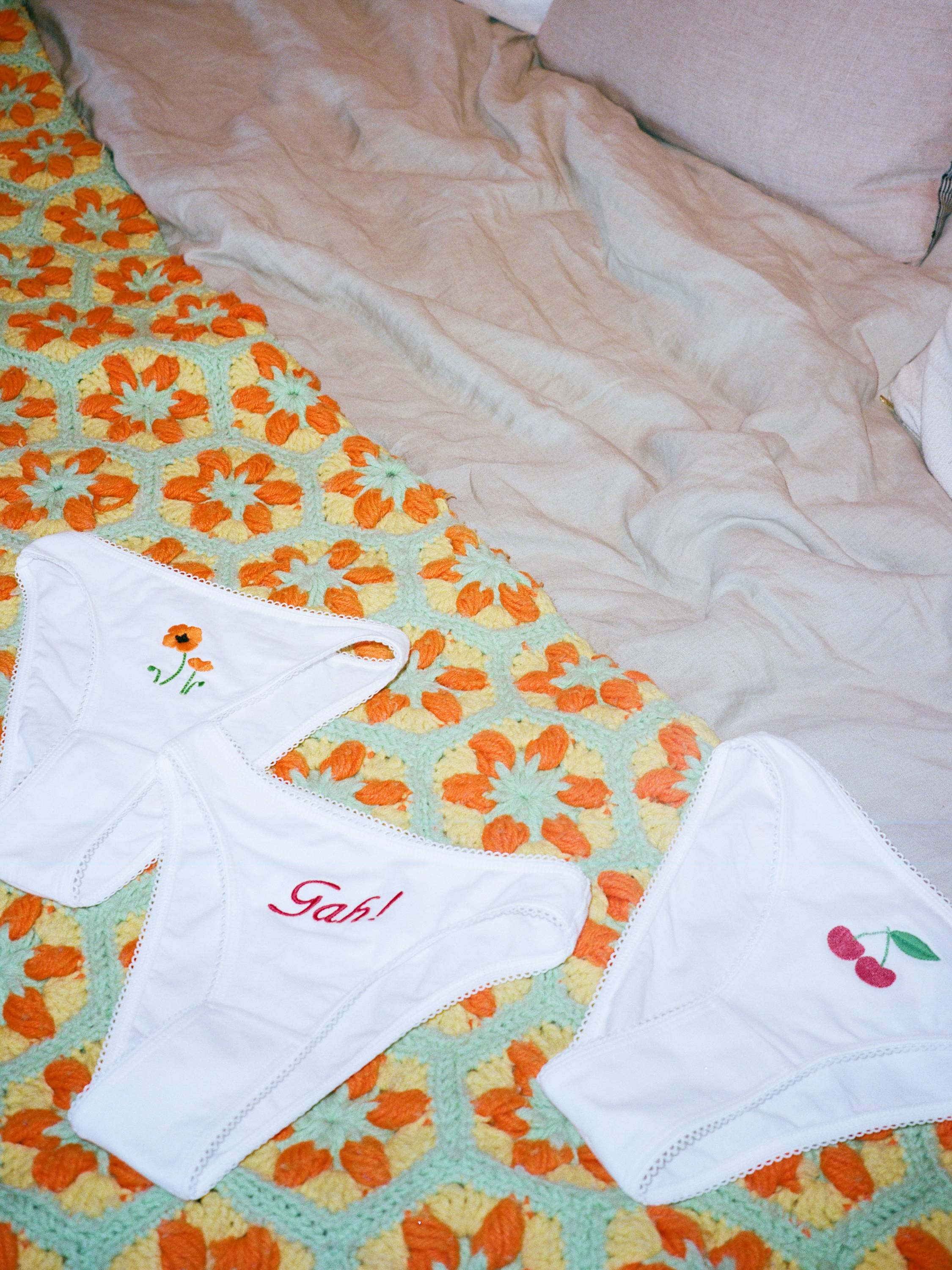 "A line from one of my favorite Mary Oliver poems, 

'You only have to let the soft animal of your body
love what it loves'

" 

 
You recently launched a collaboration with Devendra Banhart + made a short film around it. Tell us a little bit about that project and concept behind it.
For the launch of my newest product, The Unisex Boxer, I collaborated with Devendra Banhart, who drew two designs that have been embroidered—Tongue Tied and Duck Song. I find myself wearing men's boxers around the house almost everyday. They are comfortable and supportive, and make me feel sexy! Similar to putting on a boyfriend's oversized button down, there is a quality and feeling of intimacy with boxers. I set out to make to a unisex boxer for everyone made from 100% Los Angeles-spun mini rib cotton.
Equal, a Poppy Undies 16mm short film, explores the vulnerability of intimacy between lovers. I worked with my friend Nicky and Juliana Giraffe @giraffestudios who directed the film. Alana Cloud Robinson starred and voiced a beautifully written poem of hers. Equal evokes the harmonious feelings of inclusivity, familiarity, and closeness, the ethos of Poppy Undies' new Unisex Boxer.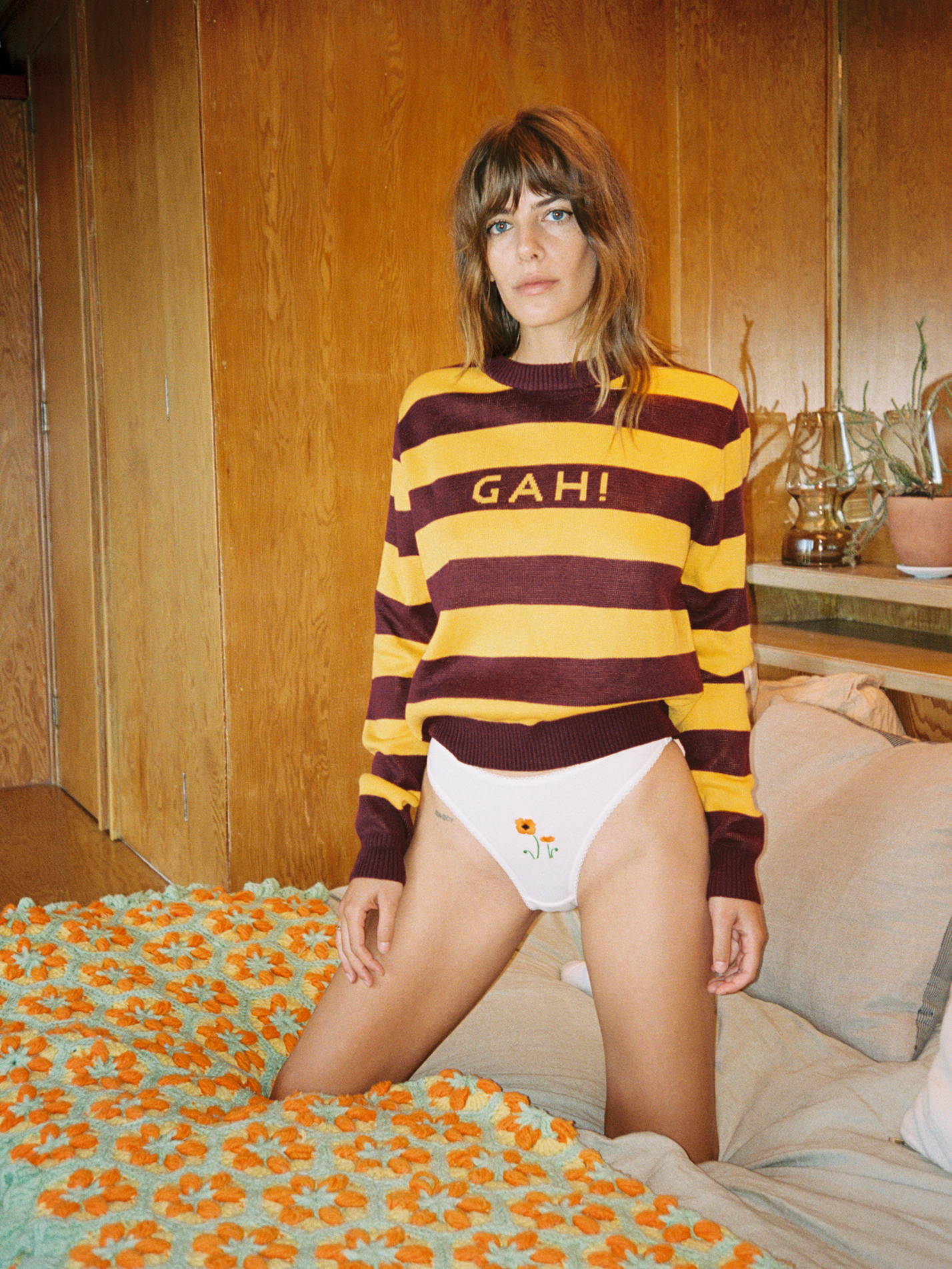 When do you feel most inspired? Is there anything right now specifically inspiring you (can be anything that you're hooked on, music, specific artist, books, a film, etc)
Currently: some of my grandmother's quilted and crocheted blankets and The Natural History Museum.
What is your go-to outfit, that you'll never part with in your wardrobe?
A pair of denim, an old white tee that is hanging on by a thread, and a navy blue sweater that was actually part of my high school uniform.
What does Em Labowe say GAH to?
Homemade cinnamon rolls by @shebakedme.
1.29.21
Text: Madeline Sensible
Photos: Dana Boulos
@danaboulos